The Fred A. Nudd Corporationís manufacturing facility and factory-trained personnel provide our customers with a wide variety of quality products. Our AWS certified welders and skilled fabricators handle most of your wireless communication needs in a safe environment. We have a 30,000 square foot fabrication facility with overhead and workstation cranes for material handling.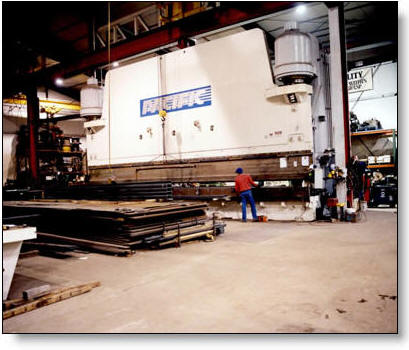 With a Pacific model 600-35 metal shear and a Pacific model FK2000-36/32 press brake, Fred A. Nudd Corporation has the ability to fabricate very large steel components. The shear will handle 3/4-inch x 35-foot cuts in mild steel. The press brake has 2000-ton capacity, with a 36-foot bed length.
The Fred A. Nudd Corporation is very familiar with the hot dipped galvanizing process; therefore, our products and materials are fabricated to accommodate this process. This is achieved by selecting the proper material for zinc adhesion and installing drain holes where needed.
The engineering department works close with the fabrication department to assure our customers the highest quality and user-friendly products. We have served the communications industry since 1945. We are always looking for ways to design and manufacture our products for ease of installation and maintenance without compromising safety.